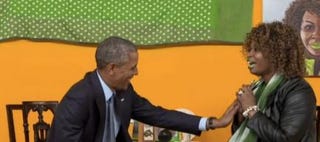 YouTube sensation GloZell Green is known for many things, including comedy, bold lipstick and eating cereal out of a bathtub. But this week GloZell was one of a few YouTube stars who had the chance to interview President Barack Obama. The interview was part of the White House's attempt to communicate themes of the State of the Union to a broader and more digitally native audience.
During GloZell's interview, the usually outspoken and unabashed comedian got a bit tongue-tied when she came face-to-face with the president and offered Obama a gift.
"My mama says whenever you go to somebody's house, you have to give them something. Don't come empty-handed," she said.
And that's when she had her slipup.
"One for your first wife … ," she said as she handed Obama a lipstick.
"My first wife!?" Obama laughed. "Do you know something I don't?"
"Ooh, for the first lady!" GloZell corrected herself. "And the first children."
"I'm sorry," she repeatedly said.
"Oh, I'm teasing," Obama said playfully.
Well, that was awkward, but cute.