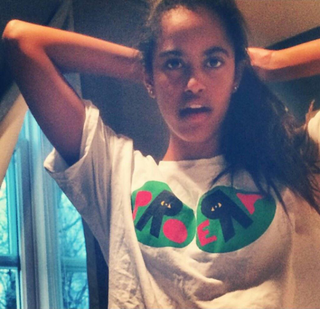 Earlier this week, a photo of Malia Obama rocking a Pro Era T-shirt went viral after being posted on Twitter and Instagram. But the White House isn't taking the incident too lightly. According to Fox News, the White House is attempting to figure out how the photo went public, especially since Michelle Obama has strict rules for her daughters when it comes to social media.  
Shortly after the photo appeared online, a rep for Joey Bada$$ told Gawker that the photo was received from mutual friends of Malia and Pro Era. Ironically, in my last post about the photo, I warned that whoever the culprit involved in releasing the photo was may want to watch out and not become public enemy No. 1.
The first lady doesn't take kindly to social media and said as much during a Barbara Walters interview in 2013. "I still am not a big believer in Facebook for young people," she said.
This mutual friend of Maila and Pro Era may want to think again before he or she shares another photo of Michelle and Barack Obama's daughter.