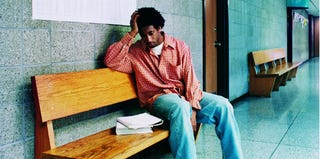 (The Root) — Plenty of us have been there: the lone black student in a poetry workshop full of white people, the only Asian family in a neighborhood full of everyone else. It inspires a bevy of feelings: defensiveness, loneliness, irritability.
Code Switch, NPR's blog about race, culture and ethnicity, asked its Twitter followers for stories about their experiences being the only minority in social spaces like work and school. Code Switch is known for spearheading intriguing conversations online, and this one is still going strong a full day later. Check out some of the conversation, tagged with #IWasTheOnly, below.
#iwastheonly Black and/or African girl in my class my entire schooling til 10th grade. I hated the shape of my nose until 10th grade

— udee bassey (@udeebee) August 7, 2013
@NPRCodeSwitch #Iwastheonly person of color in elementary through high school—teased mercilessly for not fitting into stereotypes.

— Martha Tesema (@martesema) August 6, 2013
Tracy Clayton is a writer, humorist and blogger from Louisville, Ky.