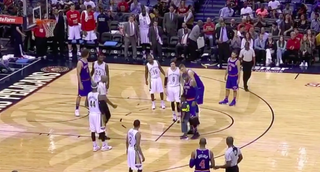 "They just let that happen?" asked the announcer.
Yup, they sure did.
A little boy ran onto the basketball court to hug New York Knick Carmelo Anthony during a game against the New Orleans Pelicans in New Orleans Monday night. And no one, including the announcer, could believe it.
As quickly as he ran to give Anthony a hug, he was escorted off the court by a security guard.
But yeah, where were his parents? 
Get your life, kid. Get your life.