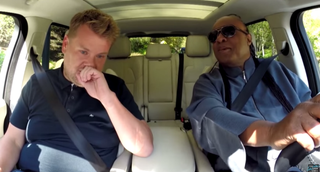 James Corden, host of The Late Late Show, has had many people in the passenger seat of his car for "carpool karaoke," from Mariah Carey to Jennifer Hudson and even Justin Bieber. But on Monday night's show, Corden had one of the greatest singers and musicians of our time: Stevie Wonder!
If you're not familiar, along with being a musician extraordinaire, Wonder also pulls off a great British accent, and his sense of humor is through the roof.
During their 10-minute ride, Corden and Wonder sang along to "Isn't She Lovely" and "Superstition." But the pièce de résistance came when Wonder called Corden's wife and sang, "I Just Called to Say I Love You." From Corden's teary reaction, you can only imagine how his wife was feeling on the other end of the surprise call.
If your Tuesday is dragging along, the clip below may be the pick-me-up you need.