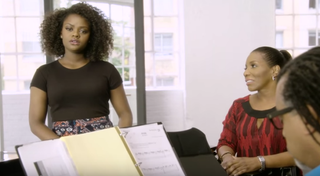 One word: goosebumps.
That's what you'll get while you're listening to Stephanie Mills pass the torch to Shanice Williams as they sing The Wiz's "Home" as a duet. When The Wiz Live! airs in December, two generations of Dorothys will be on the stage. Williams will tackle the coveted lead role and Mills will play Auntie Em. 
Mills starred as Dorothy in the original Broadway musical in 1975, and "Home" is still considered a classic. When she and Williams got together to sing the song, magic happened.
In an interview with People, Williams and Mills discussed the musical, and Williams spoke about the advice she received from Mills.
"One of the best pieces of advice she's given me is to always stay humble and live in the moment because I'm not ever going to get this opportunity again. This is once in a lifetime. And when I sing 'Home,' she always reminds me, 'You're the only one onstage, and this is your moment—don't hold back,'" Williams stated.
At 58 years old, Mills says she's excited about playing Auntie Em, and she gets emotional watching everyone perform. Mills also assured everyone that the story hasn't been modernized.
"They haven't changed the story at all. It's the same classic story. It's a family story for everyone, and it's just updated. I mean, we thought we were doing something when the Munchkins were on rollers and rolling around, but now, when you see Cirque du Soleil doing it, it's just incredible," Mills said.
Many people are counting down to the live broadcast, and it's sure to have everyone talking.
The Wiz Live! airs Dec. 3 at 8 p.m. ET on NBC.