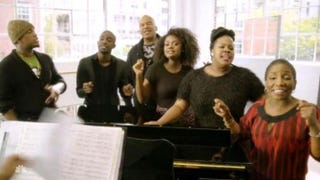 As the premiere of The Wiz Live! approaches, NBC has been giving people a look at some of the behind-the-scenes rehearsals and costume designs.
Last week we were treated to a duet between Shanice Williams and Stephanie Mills as they sung "Home." And now the cast can be seen singing yet another popular song from the musical.
Backed by just a piano, Mills and Williams are joined by David Alan Grier, Ne-Yo, Amber Riley and Elijah Kelley.
Take a look at the clip below:
And here's the throwback video as Diana Ross and her crew eased on down the road:
The Wiz Live! airs Dec. 3 at 8 p.m. ET on NBC.