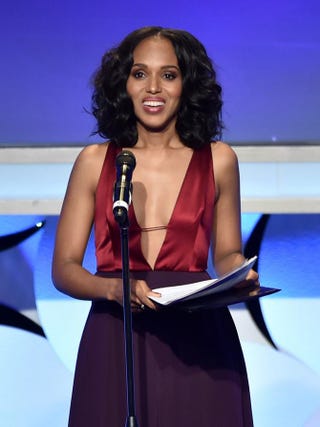 Kerry Washington received two standing ovations on Saturday when she gave a moving speech after accepting her Vanguard Award at the 2015 GLAAD Media Awards in Beverly Hills, Calif. In her speech Washington encouraged all minorities to come together and fight until everyone has equal rights.
"On Monday morning, people are going to click a link to hear what that woman from Scandal said at that awards show, and so I think some stuff needs to be said," Washington said during her speech. Here's what she said:

There are people in this world who have full rights and citizenship—in our communities, our countries—around the world. And then there are those of us who to varying degrees do not. We don't have equal access to education and health care, and some other basic liberties like marriage, a fair voting process, fair hiring practices. Now you would think that those kept from our full rights of citizenship would band together and fight the good fight. But history tells us that no, often we don't. Women, poor people, people of color, people with disabilities, immigrants, gay men, bisexuals, trans people, intersex people. We have been pitted against each other and made to feel there are limited seats at the table for those of us who fall into the category of "other."
Every year the GLAAD Media Awards honor media allies of the lesbian, gay, bisexual and transgender community for their "fair, accurate and inclusive representations of the LGBT community and the issues that affect their lives." Shonda Rhimes' show How to Get Away With Murder also won for Outstanding Drama Series.