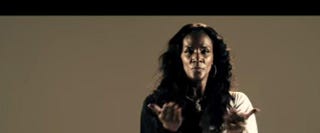 Earlier this summer, Love & Hip Hop: Atlanta's matriarch, Momma Dee, debuted her new single, "I Deserve," at Sutra Lounge in Atlanta. The performance was a memorable one, not because of the song, but because it was literally a tooth-flying event.
And in true Momma Dee fashion, she took everything in stride.
https://twitter.com/ThaRealMommaDee/status/508460537454530561
Today Momma Dee is back, and she's once again attempting to make it big as a singer and extend her reality-show 15 minutes of fame. Momma Dee's new video for "I Deserve" has cameos from her son and Love & Hip Hop: Atlanta co-star, Lil Scrappy, along with her daughter and her granddaughter, Emani. Needless to say, it's a family affair, and thankfully no teeth were harmed in the making of the video.
You can't fault Momma Dee for trying to make a name for herself outside of reality TV, because we all know the fame won't last forever.