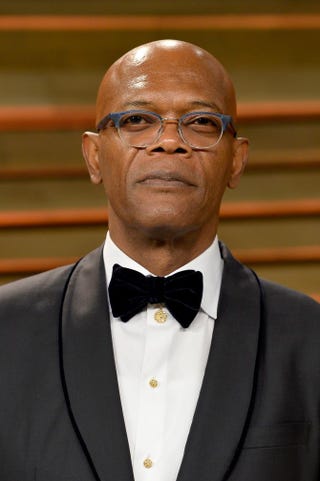 Samuel L. Jackson is one of the highest-grossing actors in Hollywood. His career started in 1978 in television roles to now encompass over 150 movies. But there's one common word that seems to slide off of Jackson's tongue effortlessly in just about every movie he's been in.
Motherf—ker.
But motherf—ker is more than just a curse word in Jackson's life. Last year while giving a speech at the American Institute for Stuttering gala, Jackson said that cursing helped him overcome a stuttering issue he's been battling since he was a kid.   
"I was the other day on the set of Captain America, and they said 'Action!" and I said, 'G-g-g-et …' It was a G day. So I have my days. I have G days, I have P days, I have B days, I have S days, and I'm still stuttering. But I figured out a way to do it. And some days, the best thing for me to do is say my favorite word, and I get through it: 'Motherf—ker!'" Jackson stated at the gala.
So exactly how many times has Jackson used the infamous mf-word? According to the Huffington Post, the word has been uttered 171 times in 27 different movies. Huffington Post's Ben Craw and Oliver Noble put together a supercut of each time and clips from every movie the explicative was used in.
The clip includes the first time Jackson uttered the word in 1988's School Daze to this year's RoboCop.
Jackson has a slew of films coming out over the next couple of years, so I'm quite sure 171 will probably inch closer to 200. 
Yesha Callahan is editor of The Grapevine and a staff writer at The Root. Follow her on Twitter.
Like The Root on Facebook. Follow us on Twitter.