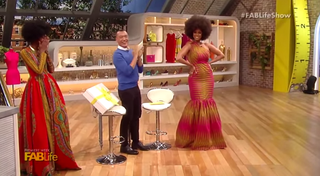 Earlier this summer, Kyemah McEntyre stunned the world with her amazingly designed prom dress. The East Orange, N.J., native's dress literally was the talk of social media. The dress she designed paid homage to African culture and put McEntyre's design skills on display.
On Thursday, McEntyre appeared on Tyra Banks' FABLife talk show and received the surprise of her life. Banks walked out to greet McEntyre in a dress the high school student had designed.
"I am such a fan of you. I saw you on the Internet and you blew me away with your talent, with your beauty," Banks said. "This is the beginning of your journey and becoming the force that I know that you can be in the fashion world; this is not existing in the fashion world right now, and it is desperately, desperately needed."
McEntyre told Banks that the bullying she suffered as a child inspired her to make the dress.
"I was trying to show society that it's OK to be yourself," McEntyre said. "I think it's really important that we let people know that you don't need someone else to identify your identity."
Check out the clip below: