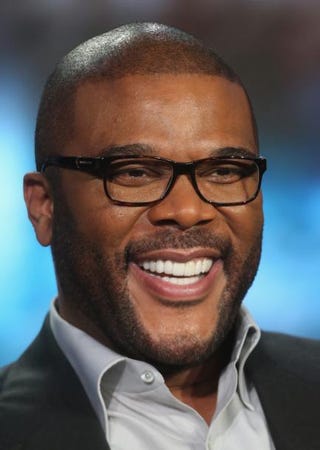 Who knew that a line in Chris Rock's Top Five movie about a fictitious Madea Halloween movie would eventually make it to the big screen?
According to Variety, that's how Boo! A Madea Halloween came to be. It's being released on Oct. 21 and will star Tyler Perry as the no-holds-barred matriarch, who will be fighting ghosts, ghouls and other paranormal entities. Perry will also write and produce the movie. 
"The film originated from Perry and Chris Rock including a fictitious Madea Halloween movie in Rock's 2014 film, Top Five," Variety explains. "Lionsgate then approached Perry and suggested that they make the movie."
"We are thrilled to reunite with the iconic Tyler Perry, one of the greatest creative forces in entertainment and a beloved and cherished member of our Lionsgate family," said Lionsgate executives. "Boo! A Madea Halloween brings together two great Lionsgate traditions—Madea and a Halloween movie—and we know that audiences will find the combination outrageous, hilarious and unbeatable."
The movie is currently being filmed at Tyler Perry Studios in Atlanta. 
For more of black Twitter, check out The Chatterati on The Root and follow The Chatterati on Twitter.
Diana Ozemebhoya Eromosele is a staff writer at The Root and the founder and executive producer of Lectures to Beats, a Web series that features video interviews with scarily insightful people. Follow Lectures to Beats on Facebook and Twitter.
Like The Root on Facebook. Follow us on Twitter.