(The Root) — The judge presiding over the George Zimmerman case delivered crushing blows to the defense this morning. U.S. Circuit Judge Debra Nelson ruled that "the defense may not bring up Trayvon Martin's past marijuana use at trial, or his school suspensions or alleged participation in fights." She also shot down a delay of trial proposed by Zimmerman's lawyers.
The news injected hope in those hoping for a guilty verdict on behalf of the late teen. Trayvon, 17 years old, was shot and killed by George Zimmerman, a neighborhood-watch volunteer in Sanford, Fla. Zimmerman's lawyers claim self-defense as his motive for shooting the unarmed teen. The defense has been pushing for the admission of texts and tweets in an effort to prove Trayvon's "hostility" on the day of the shooting.
The news spread quickly across Twitter, inspiring new commentary and debates about the case. Check out some of the conversation below.
G/O Media may get a commission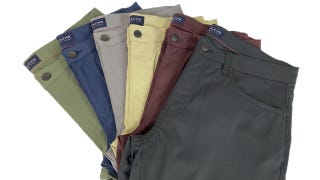 JACHS NY Fall Stretch Tech Pants
#JusticeForTrayvon Thinking of Trayvon and all the potential future Trayvons today. Racism kills and it has to stop already.

— Liam (@AutistLiam) May 28, 2013
Tracy Clayton is a writer, humorist and blogger from Louisville, Ky.