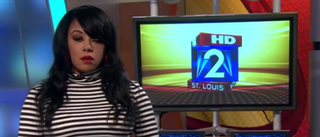 April Simpson will probably never wear stripes live on the air again after being called "the Hamburglar" by her colleague Tim Ezell. The St. Louis news crew kept it funny during their exchange, and it has since gone viral.
Ezell was throwing the show back to Simpson and decided to clown her shirt. If you recall, the Hamburglar is a McDonald's character that wears black-and-white stripes.
"Time to get you caught up on your news headlines. For that, the Hamburglar," Ezell stated. 
The look on Simpson's face was priceless. Take a look at the clip below:
Since it's surfaced online, the clip has been shared and tweeted about. Even Kevin Hart got a laugh out of it and posted it to his Facebook page.
https://twitter.com/foxonfox/status/572979627527831554
Although the clip is quite old—Ezell left the station in June to become a pastor—the Internet has definitely given it life.