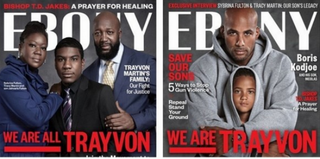 (The Root) — Amid the praise Ebony has been getting for its moving visual tribute to Trayvon Martin, the magazine's Twitter feed has found itself clogged with spiteful attacks from those angry about the homage.
Ebony's special September issue, which will focus on the George Zimmerman trial and its aftermath, will have four different covers: one featuring Trayvon Martin's parents and brother, and three featuring pictures of prominent black men and their sons wearing hoodies. Pictures of the covers have been circulating around the Internet, drawing criticism from whites decrying the magazine and covers as racist and evil.
There was also a rumor that the Tea Party was planning to boycott Ebony over the whole thing. Ebony responded to both the anger and rumor with a couple of quick jabs and a thank-you to those who tweeted their support.
The racist trolls on our timeline objecting to our September covers need to have a seat at a Klan meeting and get out of our mentions.

— EBONY (@EBONYMag) August 7, 2013
Tracy Clayton is a writer, humorist and blogger from Louisville, Ky.