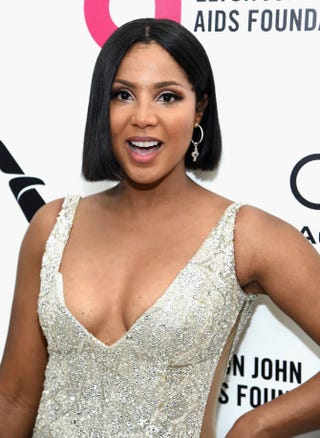 Toni Braxton felt guilty for being the only one of her four sisters to be given a recording contract to become a solo artist. She went bankrupt—twice—and was diagnosed with lupus, her son was diagnosed with autism, and she got a divorce and had a hard time resuscitating her career after her '90s heyday. We'll see all of that come to life in a biopic about the singer's life that will air on Lifetime, Deadline reports.
The movie will be based on Braxton's 2014 book, Unbreak My Heart: A Memoir, which describes everything she's been through since she burst onto the scene with her cute, pixie haircut and distinctive deep, sultry voice. 
According to reports, Braxton will actually play herself in the movie and will also serve as an executive producer. Production will begin later this year. Since Braxton is attached to the movie and overseeing it, it'll probably be much better than the other Lifetime biopics that, well, weren't received very well. Who can forget everyone's reaction to the network's Aaliyah biopic? 
Diana Ozemebhoya Eromosele is a staff writer at The Root and the founder and executive producer of Lectures to Beats, a Web series that features video interviews with scarily insightful people. Follow Lectures to Beats on Facebook and Twitter.
For more of black Twitter, check out The Chatterati on The Root and follow The Chatterati on Twitter.
Like The Root on Facebook. Follow us on Twitter.