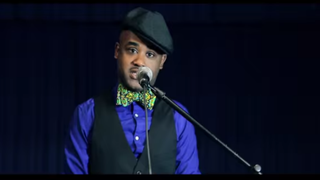 You may remember Tray Chaney from his role as "Poot" on The Wire, especially if you've reacclimated yourself with the groundbreaking series since HBO again aired the HD version. But when he's not acting, Chaney is using his music to make a difference in his community.
Chaney's newest video, "#Attendance," is a motivational hip-hop video educating young people to always be present in school unless it's an emergency, and sending the message that students should take education seriously.
"I wanted to focus on getting young people—all ages, all grade levels—excited about going to school. Reports of the dropout rates really hurt my heart, and I felt I needed to step up in hip-hop and represent by not only giving our youth a song but a video as well. It's so much negative vibes out here that our youth can get trapped in, I wanted to be a leader and show them they can be a leader," Chaney told The Root.
"#Attendance" was shot on location in Baltimore at the Maryland Academy of Technology & Health Science Charter School.
Chaney, who hails from Forestville, Md., hasn't left acting behind. He's currently filming a new TV show, Rise, in which he plays Kai Finley, a well-educated businessman who gets involved with money laundering. The series, produced by Riot Scene Pictures and written and directed by Taylor Young, will air sometime this year.
You can visit mrtraychaney.com to view more videos and keep up with Chaney.