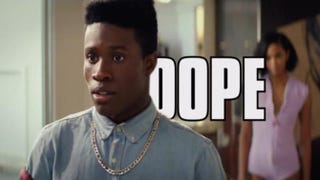 Rick Famuyiwa, the writer and director of The Wood and Brown Sugar, may have another hit movie on his hands. Earlier this year at Sundance, Dope was the breakout film that no one could stop talking about, and on Thursday the official trailer was released.
From hip-hop to social media, and with psychedelic colors, Dope's trailer definitely steps away from typical trailers. Dope is a coming-of-age comedy that tells the story of Malcolm (Shameik Moore), who is obsessed with the '90s but lives in modern-day Inglewood, Calif., as he gets caught up in a drug dealer's ring.
The film is directed by Famuyiwa and produced by Forest Whitaker, Pharrell Williams and Sean "Diddy" Combs. Dope also stars Kimberly Elise, Zoë Kravitz, Chanel Iman, Keith Stanfield, Blake Anderson and A$AP Rocky in his film debut. Dope opens everywhere June 19.