Kanye West was given four minutes to talk about whatever he wanted during the MTV Music Video Awards. And he did just that. From Taylor Swift, whom he seems to have a hard time letting go of, to Chicago gun violence and even giving a shoutout to Amber Rose, West didn't seem to have an objective in mind. But what he did do was introduce his newest video, "Fade," and gave the world a dose of singer-dancer Teyana Taylor.
If you're not familiar with Taylor, she sang on Kanye's "Dark Fantasy" and "Hell of a Life" and had her own hit with 2014's VII, which was No. 1 on Billboard's Top R&B/Hip-Hop Albums chart. Taylor also recently gave birth to a little girl and is engaged to Cleveland Cavaliers player Iman Shumpert.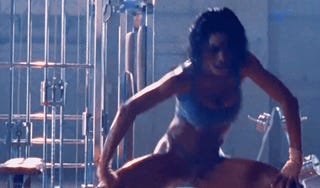 In the video for West's "Fade," Taylor pulled off a "Flashdance"-like routine and had everyone in awe.
Here's just a snippet of Taylor in "Fade":
All praises due to Taylor—and Aunt Viv: