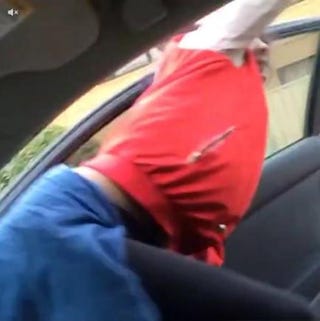 A Georgia teen has gone viral after trying to pull off a dance that only seemed fitting for a professional stunt artist. Cellphone video shows the teen, who has been identified as 18-year-old Brittany Symone, squatting and doing the whip dance while standing on the passenger seat of a car with the door wide open and the car in motion.
What's the worst that could happen?
Of course, the short video was posted to Vine and Instagram by her friend, and so far it's accumulated over 7 million views. According to Symone's friend Catfish, the wannabe stuntwoman wasn't hurt. "She's good. She's just a little ashy. That's it," Catfish told the Daily Dot.
Just a little ashy?
Well, I guess that's better than just a little bruised with broken bones.
Please don't try this at home.