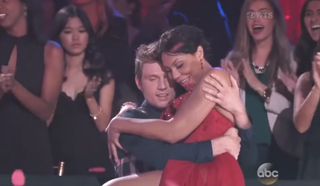 For the last couple of weeks, Tamar Braxton has proved that she's more than a singer with her appearance on Dancing With the Stars. From dancing the salsa to doing a rousing rendition of Janet Jackson's "Rhythm Nation" dance, Braxton captured the attention not only of the judges but also of her fans online. But on Monday the Maryland native was rushed to the hospital with pneumonia, which could have led to an elimination from the show.
But the operative words there are "could have."
Not only did Braxton return Monday night, directly from the hospital, but she also pulled a near-perfect score as she danced with Nick Carter to a Cirque du Soleil rendition of the Beatles' "Hey Jude."
With her return, Braxton shocked the judges, as well as Carter, who was concerned about her health.
"There was a moment right before when she came out, a minute before we were going to perform, and Val actually came to me and said, 'Listen, everything aside, I need you to be a lead man tonight and I need you to protect her and take care of her,'" Carter told Us Weekly.
"She was unstable," he explained. "So on top of everything else I needed to know and didn't learn because of our lack of rehearsals, I had to really put her first and assume that responsibility and really just kind of make sure that she was taken care of," he added.
Take a look at their performance below: