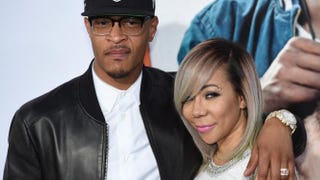 Rapper T.I. and his wife, R&B singer Tiny, welcomed their newest bundle of joy into the world Saturday. But the rapper wasn't too happy with how the news broke. 
On Facebook, T.I., whose real name is Clifford Harris, posted about not being able to witness the birth in person, as well as having other people announce their business to the world (the post is no longer public).
The baby girl was born Saturday, and she's T.I.'s third child with Tiny (Tameka Harris). The couple are also raising four other children from previous relationships together.
Tiny posted a photo of Kandi Burruss visiting her in the hospital. Both women were members of the popular '90s group Xscape.