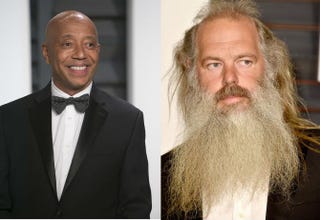 The success of Straight Outta Compton has been nothing but phenomenal, and now Universal Pictures is mulling over the idea of a Def Jam biopic.
According to Deadline, the movie studio wants to dive into the history of Def Jam Recordings and its co-founder Russell Simmons. Simmons can by all means be considered the godfather of East Coast hip-hop. Along with Rick Rubin, he launched Def Jam right from Rubin's college dorm, and the rest, as they say, is history. The two men built a music empire that consisted of some of the biggest heavyweights in hip-hop. Def Jam was the catalyst that launched the careers of LL Cool J, the Beastie Boys, Public Enemy, EPMD and Jay Z.
The Def Jam biopic would be based on 2002's Life and Def: Sex, Drugs, Money, + God, co-written by Simmons and Nelson George. The book is a blueprint of Simmons' career and his partnership with Rubin. The biopic may focus on the early Def Jam years and the label's underground beginnings.
So who would play Simmons and Rubin? Rumor has it Michael B. Jordan and Jonah Hill are being considered.
With the success of Straight Outta Compton, it's not surprising that the movie studio would want to strike twice, with a biopic about the East Coast hip-hop movement.