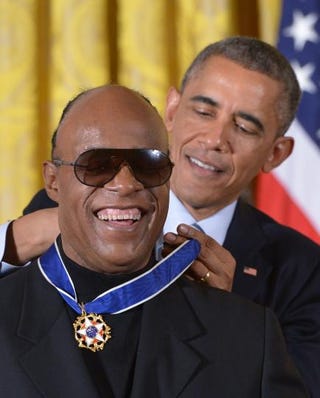 Stevie Wonder has been a busy man lately. Shortly after becoming a father, he started a successful tour that has been extended, and now the Songs in the Key of Life maestro is developing a miniseries with NBC about the Underground Railroad.
Freedom Run will not only be a miniseries; it'll also be a Broadway musical. The series is based on the book Forbidden Fruit: Love Stories From the Underground Railroad, by Betty DeRamus, which tells the story of a network that helped fugitive slaves in the 19th century flee to Northern states or Canada. The show will focus on couples, both enslaved and free, black and white, who are fighting slavery or trying to escape it.
According to the Hollywood Reporter, Wonder will be the executive producer of the eight-hour series, and NBC hopes that he will also write the music.
"These unforgettable moments in history, which have never been told on television before, are both incredibly painful and heartwarming and need to be presented to the world," said NBC Entertainment President Jennifer Salke. "We're honored to be adapting this emotionally affecting book in a television event."