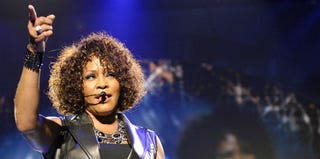 (The Root) — I remember exactly where I was when I heard about Whitney Houston's passing. I'd just hopped into a too-full car of my friends, headed out to dinner.
"Are you mourning?" one asked.
I asked what she was talking about.
"Whitney!"
I spent the car ride suspended in disbelief, but when I noticed everyone in the little Mexican restaurant was belting out their favorite Whitney songs as loud as they could, I accepted the truth. And joined in. Loudly.
But today isn't about mourning the death of Whitney "Nippy" Houston; it's about celebrating her life. She would have turned 50 years old on Aug. 9, and some of the biggest names in black entertainment sent out remembrances and birthday wishes over Twitter and Instagram. Check out a few below.
Tracy Clayton is a writer, humorist and blogger from Louisville, Ky.