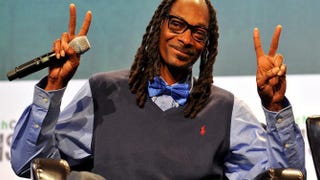 The marijuana industry in Colorado is big business, and Snoop Dogg is looking to get a piece of the high … I mean, pie.
Snoop Dogg's marijuana line, Leafs by Snoop, officially went on sale Tuesday in Colorado, the mecca of weed in the U.S. Snoop's brand includes eight different types of marijuana flowers, including everything from Lemon Pie to Cali Kush. He also has edibles and concentrates for those who aren't into lighting it up.
The line fits right into Snoop's marijuana business plan. In September he launched his own marijuana-media company, Merry Jane. With both the line and the company, Snoop is definitely broadening his weed portfolio. 
In an interview with Cannabist, the rapper spoke about his new business venture.
"Leafs by Snoop is truly the first mainstream cannabis brand in the world and proud to be a pioneer," Snoop said. "LBS is blazing a trail for the industry."
Who knows? If this line does well, maybe Snoop will bring his product to Alaska, Oregon and Washington, other states where weed is legal.