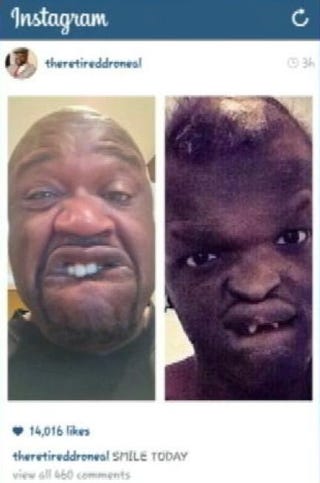 Jahmel Binion has ectodermal dysplasia, a rare condition characterized by a reduced ability to sweat, missing teeth and abnormal hair growth. In April, Binion's condition became a laughing matter for former NBA star Shaquille O'Neal. O'Neal posted a side-by-side photo of Binion and his own face to his popular Instagram account and captioned it "smile today."
Unfortunately, Binion wasn't smiling.
"I was hurt," Binion told Fox 2 in April. "Why is he making fun of me when he is supposed to be this role model?"  
But O'Neal wasn't alone in the joking. As Binion's photo made the rounds, Utah Jazz point guard Trey Burke and rapper Waka Flocka Flame joined in on the cyberbullying. Once O'Neal realized the severity of Binion's condition, he did the noble thing and extended an apology.
"Made a new friend today when I called and apologized to Jahmel Binion. Great dude. #alwayslearning #MYBADCUZ," O'Neal tweeted.
That obviously wasn't good enough for Binion. The Michigan man has now filed a lawsuit against the three men who teased him on social media.
According to the Macomb Daily, Binion is suing for defamation, intentional infliction of emotional distress, invasion of privacy and general negligence.
"The defendants mocked and ridiculed the plaintiff, a person completely unknown to themselves, in public forums where their activity would be widely disseminated," the lawsuit says. "The defendants' communications clearly implied that the plaintiff was an appropriate object of mockery, ridicule and shame" and "had the effect of lowering the plaintiff's reputation in the eyes of those who respected the views and opinion of the defendants."
Binion's attorney, John Henke III, says the mocking photos "constituted a public disclosure of embarrassing private facts about the plaintiff" and "placed plaintiff in a false light in the public eye."
Along with those allegations, the suit also stated that the mocking was done "with reckless disregard to the harm that might be caused." 
Henke has estimated that 8.4 million people saw the Binion photos, but the lawsuit doesn't state the financial amount he's looking for. 
Yesha Callahan is editor of The Grapevine and a staff writer at The Root. Follow her on Twitter.