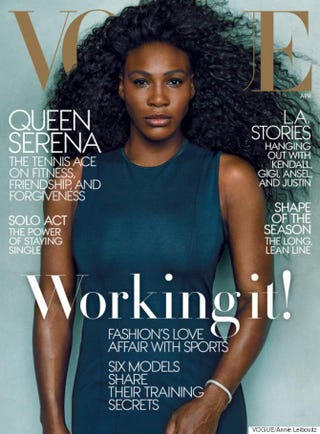 For the second time in her career, Serena Williams has gone from the tennis courts to high fashion as she appears on the cover of Vogue magazine this month. In 2012 Williams made her first Vogue appearance, appearing with other athletes; this time she's solo.
In the article, Williams discusses her friendship with one of her biggest competitors, Caroline Wozniacki. Although tennis has a history of cattiness among female competitors, Williams says that because of her friendship with her sister Venus, forming a friendship with Wozniacki came naturally. "Let's just put an end to this myth that women players cannot be friends," Serena says. "We can!"
Serena, who lives in Florida with her sister, also spoke about how it's hard to see Venus cope with Sjögren's syndrome and still remain competitive on the court. "She has gone through so much," Serena says. "Living with her, seeing her go through it, I don't even know how she's still playing." 
This month, Serena made her triumphant return to Indian Wells after being absent for 12 years. Although she pulled out of the event because of an injury, it's safe to say that she will always be regarded as a formidable opponent.