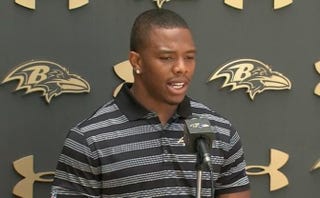 Just a week after receiving his two-game suspension from the Baltimore Ravens, Ray Rice has publicly apologized to his wife at a press conference held Thursday at the Ravens' training center in Baltimore.
"I've made the biggest mistake of my life," Rice told reporters in his first public statement since the two-game ban. "I take full responsibility for my actions. My wife can do no wrong. What happened that night should have never happened."
In February Rice was seen dragging his then-fiancee, Janay Palmer, out of an Atlantic City, N.J., casino elevator. In May Rice was accepted into a pretrial intervention program, which means he will avoid jail time.
"The arrest will remain on his record; however, he will have no conviction," First Assistant Prosecutor Diane Ruberton said in May. "He's being treated the same as any other defendant would be in Atlantic County."
Rice went on to apologize to his wife, teammates and fans of the Ravens organization. He also said that when the time is right, he and his wife plan to become ambassadors for domestic violence awareness.
"The pain I'm talking about living with is that, is waking up every day, and my daughter is 2 years old now. I have a little girl who's very smart, very intelligent," Rice said. "And one day she's gonna know the power of Google. And we have to explain that to her—what happened that night. And I know that's not who I am as a man.
"That's not who my mom raised me to be. Anybody knows me and knows me, they know I was raised by a single parent, and that was my mother. And sitting here today and replay the things my mom raised me to be. I let her down, I let my wife down, I let my daughter down, I let my wife's parents down, I let the whole Baltimore community down. And I got my teammates here to support me, and I let my teammates down, you know, I let so many people down because of 30 seconds of my life that I know I can't take back."
Yesha Callahan is editor of The Grapevine and a staff writer at The Root. Follow her on Twitter.
Like The Root on Facebook. Follow us on Twitter.