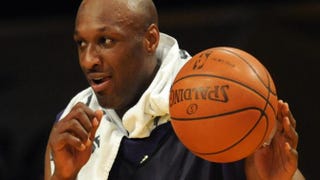 Kicking a man while he's down seems to be what Nevada's Nye County is attempting to do to Lamar Odom. The county in which Odom overdosed is now mulling over whether to file drug charges against him.
According to TMZ, Nye County District Attorney Angela Bello is considering charges of either possession of cocaine or of being under the influence of a controlled substance.
But TMZ seems to think that Nye County is targeting Odom because of this celebrity status. The media outlet couldn't find one case in which someone who OD'd was ever charged and convicted of possession or being under the influence.
Since suffering his overdose at the Love Ranch brothel outside Las Vegas, Odom has shown signs of brain damage, TMZ reports, and he's unable to walk on his own. Maybe the district attorney should look to bring charges against the person from whom Odom purchased the drugs and investigate the ranch "employees" Odom was cavorting with during his stay.