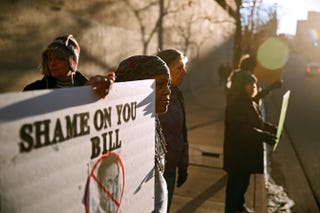 If Bill Cosby ever planned on bringing another sitcom to television, he can cross NBC off as a potential network. According to the Associated Press, during a question-and-answer session at the Television Critics Association annual conference, NBC Entertainment Chairman Bob Greenblatt was asked if it was true that Cosby would never have another opportunity on his network.
"That's safe to say," Greenblatt replied.
The network started pulling away from Cosby in late 2014, when the allegations of sexual assault and drugging made their way back into the news. In early 2014 Cosby was set to develop another family sitcom with the network, but once more women started coming forward, the network put the kibosh on those plans.
And just as ratings are a numbers game, Greenblatt said that the number of alleged victims played a huge role in the network's decision. "Fifteen women came out and accused him of what they accused him of," Greenblatt said. "When that many people come out and have such similar complaints, it became a tainted situation," Greenblatt stated.
This admission by the network will probably add more fuel to the conspiracy theorists out there, who feel that "the man" is out to ruin Cosby by not enabling him back on the network that formerly loved him.