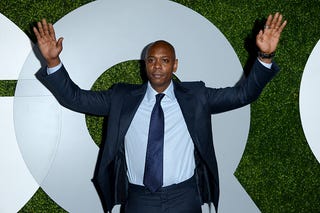 And in the midst of all this darkness, there is a ray of light. Netflix just spilled the premiere deets for two of three Dave Chappelle comedy specials that the video-streaming site promised us. And it's sooner than you think.

On Thursday, Netflix announced that two of the stand-up specials will premiere on Tuesday, March 21, which is basically tomorrow. Netflix even dropped a little teaser video on Twitter that has us ready.
No, seriously, on a scale of 1 to "Is it March 21 yet?" how ready are you? The world has long needed some Chappelle. He last graced us with a special in 2004. His brilliant opening monologue on Saturday Night Live last November only left us wanting more, and we are soooo close to getting it. Now, excuse me while I go load up my Netflix account from today.