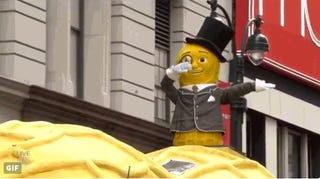 No matter what the circumstance in America, black culture (and people) will always reveal its genius.
Social media is going absolutely nuts over Mr. Peanut (born circa 1916) and his dabbin moves at this year's Macy's Thanksgiving Day Parade.
Watch him now:
Not bad, Mr. Peanut, not bad.
Happy Thanksgiving!
For more of black Twitter, check out The Chatterati on The Root and follow The Chatterati on Twitter.