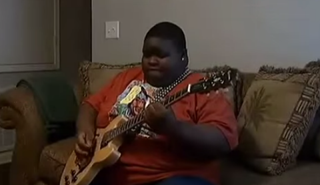 Christone "Kingfish" Ingram is only 15 years old, but he is already considered a music phenom. Christone isn't an upcoming hip-hop rapper or R&B singer but is striving to reach the ranks of blues greats like B.B. King. Christone has already played for President Barack Obama and Michelle Obama, and now he's about to embark on a tour in France.
"It was the same feeling I got when I met B.B.—B.B. King. There's no words that can describe it," says Christone about meeting the president.
In an interview with My Fox Memphis, Christone says he's been playing the drums, guitar and bass since he was 5, and by the time he was in the seventh grade he was already booking gigs.
"There was no place I probably wouldn't be gigging … I got hooked. This is what I am going to be playing for the rest of my life," he says.
Christone is looking forward to his France tour but was a bit shocked when he found out about it. "I am very excited about that trip; ecstatic about it," he said. "The morning I found out about it, I was like, really?"
At only 15, the Kingfish has done what a lot of musicians strive for, but he hopes that by the time he reaches 20, he'll have at least two albums released.That doesn't seem like such a far-fetched goal at all.
To learn more about Christone, check out his website.