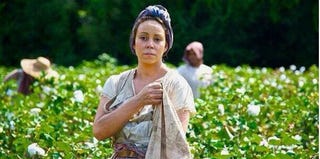 (The Root) — A still from Lee Daniel's latest movie, The Butler, is causing a bit of a ruckus on Twitter. The movie is about Eugene Allen, who retired as head butler of the White House in 1986. The photo shows Mariah Carey as a slave working in a cotton field with two other darker-skinned (assumed) slaves in the background.
The picture raised questions in some folks' minds about the historical accuracy of the film: How likely would it be that someone of Mariah's complexion would be working in the fields on a plantation?
It seems that most people think that light skin meant you were working in the house, and that dark skin invariably put you in the fields, which is untrue. I'm going to try to decide whether we should blame movies or our failing educational system for this. In the meantime, check out part of the conversation below.
Tracy Clayton is a writer, humorist and blogger from Louisville, Ky.