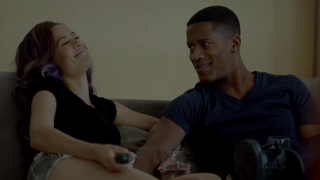 Starring Gugu Mbatha-Raw and Nate Parker, Beyond the Lights tells the story of a troubled superstar in an internal battle with herself. 
Written and directed by Gina Prince-Bythewood, who also directed Love & Basketball,  Noni Jean (Mbatha-Raw) is a successful artist facing the pressures of stardom after she wins her first Grammy. After an attempt to commit suicide, Parker's character, a young police officer, saves the songstress and the two form a bond. Danny Glover and Minnie Driver also co-star.
The film, backed by Reality Media and BET, will premiere in theaters on Nov. 14. 
Here's a first look at the trailer:
Read more at Indiewire.
(Editor's Note: An earlier version of this post originally stated that the movie will be premiering on BET television on November 14.  BET will carry the film after it is released in theaters.)
Taryn Finley is a summer intern at The Root. Follow her on Twitter.