What happens when you put Kendrick Lamar and President Barack Obama in the same room? Big-ass hugs and smiles.
Lamar recently visited the president to talk about his involvement with the National Mentoring Partnership. In an interview with BuzzFeed, presidential Senior Adviser Valerie Jarrett spoke about the meeting and said the rapper was nervous.
"[Lamar] was at the White House. He came and he visited the president, and you know what the president said to him? [Because] he was a little nervous—bless his heart, he's really a very nice young man—and the president said, 'Can you believe that we're both sitting in this Oval Office?' " Jarrett said, according to BuzzFeed.
And I'm pretty sure Lamar couldn't believe that, here he was, a black rapper from Compton, Calif., hugging a black president from Chicago in the White House.
Lamar's rap career goes beyond dropping bars. He's big on mentorship and helping other young people. In "Pay It Forward," a public service ad released as part of his involvement with the National Mentoring Partnership, Lamar speaks about how mentoring helped him along the way.
G/O Media may get a commission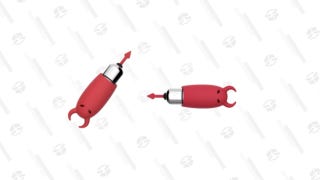 Better Love Little Devil
"Sometimes I reflect and think back, where would I be if I didn't have the presence of an older acquaintance telling me what's right and what's wrong, telling me the pros and cons of every move I was about to make? Telling me how to plan success for my future?" Lamar states.
It's always good to know that there are musicians out there who see the bigger picture.