(The Root) — As much as I loved reading it, Akoto Ofori-Atta's piece "19 Things Every HBCU Grad Knows" made me very uncomfortable. It's a feeling that engulfs me whenever I hear anyone look back fondly on their collegiate years, but heavily so when the school in question is an HBCU. This is mostly because I feel dreadfully cheated out of what many call the "best time of (your) life." I went to the opposite of an HBCU. An HWCU, if you will — a historically white college or university.
I was musing about what it's like to sit on the Twitter sidelines while HBCU grads bop down memory lane, reminiscing about homecomings and step shows and going to get some fries from Mr. Gaines at the Pit. Kids like me who went to white schools? We spent our time trying to keep people's hands out of our hair and looking for friends on BlackPlanet.
There are advantages, of course. Going to white schools really prepares you for life in a white world. Once you've been the only fly in the buttermilk in all your classes, transitioning to being the only brown person in your office or in your neighborhood isn't that tough. Also, you get to feel like a superstar choreographer at all the campus parties.
But overall, life on white campuses for nonwhite students is pretty taxing, and our experiences don't get discussed as openly or frequently. So today I tweeted and asked my fellow HWCU students and graduates to commiserate with me and journey down the alabaster halls of our collective memories. The responses ranged from funny and ridiculous to insane and nearly unbelievable. Check out a handful below, then check out this Storify of the rest.
And if you survived an HWCU, give yourself a pat on the back. You made it!
G/O Media may get a commission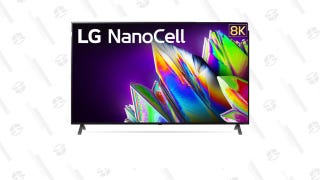 LG 75-Inch 8K TV
"I know YOU got financial aid… must be nice. My parents worked so I didn't qualify." #HWCU

— Black Canseco (@BlackCanseco) May 30, 2013
Tracy Clayton is a writer, humorist and blogger from Louisville, Ky.