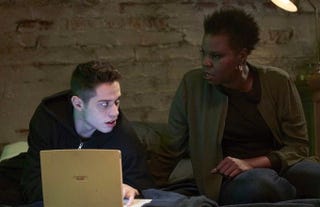 Last month, Leslie Jones' personal website and iCloud information were hacked, and nude photos, along with other personal information, were posted online. Jones took a short break from social media during the incident, but when she returned, her fans cheered her on.
Since the hacking incident, Jones has made light of it. First she joked about it at the Primetime Emmy Awards with the auditors from PricewaterhouseCoopers, and during Saturday's season premiere of Saturday Night Live, in a Mr. Robot spoof, Jones once again used comedy to laugh at the incident.
In the sketch, Pete Davidson's character is hired by Jones to figure out who hacked her. Jones breaks out an antique computer and all of her passwords are, hilariously, "password"—which would explain why Jones was hacked. It turns out she really wasn't, and she was the one who actually posted her own private information.
"It seems you backed up your photos to your online website," Davidson as Elliot reveals. "Don't know how you did it; it's actually really hard to do."
Check out the clip below: