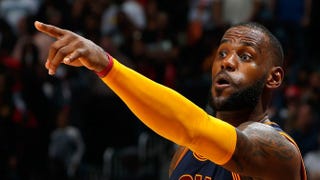 If you were a kid in 1996 or a parent, Space Jam, starring Michael Jordan and a bunch of Looney Tunes cartoon characters, was probably the one movie you either watched over and over again or regretted the fact that its theme song was stuck in your head for days. Seriously, whatever happened to the Quad City DJs? Maybe in the upcoming sequel we can get a Quad City DJ Space Jam-remake song?
Yup, that's correct: A Space Jam sequel is now in the early stages of production, and instead of Jordan hanging out with Bugs Bunny and his crew, LeBron James will be starring in the film, written by Fast & Furious 6 and Star Trek Beyond writer Justin Lim.
James most recently had a role in Amy Schumer's Trainwreck, and he was actually quite funny in it. So maybe he'll be able to carry a 90-minute movie on his own. Considering that the original movie made over $250 million at the box office, James definitely has some big shoes to fill. 
And just so you can have the original theme song stuck in your head, too, I've added it below.