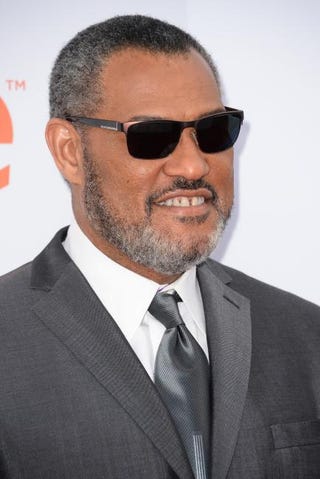 Although Laurence Fishburne is reveling in the success of his TV sitcom Black-ish, his mother, Hattie Fishburne, is facing eviction. In an interview with the New York Post, Hattie says she hasn't been able to pay her rent for several months and will be homeless on Tuesday. Hattie, who is a retired schoolteacher, says she hasn't spoken to her son since his father died a year ago.
"He's gone Hollywood," Hattie told the Post. "For 20 years I funded my son's career. He promised me he would take care of me. He promised me a house, a golden retriever, a calico cat. To this day, I have not got a Christmas present or a 'Thank you, Mama' present. He hasn't given me a penny.
"I'm so hurt and disappointed," she added.

Hattie, whose monthly rent is currently $1,500, receives $3,000 a month from her pension and Social Security benefits. Hattie also said that she suffers from health issues including arthritis and thyroid problems.
Back in 2000, everything seemed to be fine between Laurence and his mother. He even praised her in an interview. "I've got to tell you, my mother is very bright," he said. "I mean, she's got a really, really amazing mind. Now, I'm a really smart guy. I'm bright. I know s- -t from Shinola. And all that I get from her."
But according to Hattie's apartment-building manager, "Things have changed."
Laurence Fishburne, his mother's only child, is currently filming the next season of his other TV show, Hannibal, and did not respond to the Post's request for a comment. One can only hope that 80-year-old Hattie doesn't end out on the streets today.