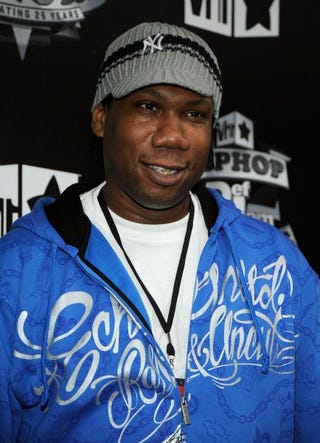 Just as many people have jumped to Bill Cosby's defense when it comes to allegations of sexual assault and trying to protect his legacy, KRS-One is attempting to do the same for Afrika Bambaataa.
Just weeks after several men accused Bambaataa of molesting them when they were young children and teens, KRS-One says that shouldn't take away from Bambaataa's hip-hop legacy.
KRS-One appeared on N.O.R.E. and DJ EFN's Drink Champs podcast and got heated when asked about Bambaataa.
"For me, if you keep it hip-hop, nothing can be taken away from Afrika Bambaataa," he said. "But if you want to dig into dude's personal life and accusations that's being made and so on, personally, I don't give a f—k."
He then said, "If somebody was harmed or whatever, y'all gotta deal with that s—t. That don't stop what you did for hip-hop. It don't take away none of it. History is history. But deal with that. That's personal."
It goes beyond personal when it's actually criminal. But I guess hip-hop is more important than a bunch of men who say they were raped as kids.