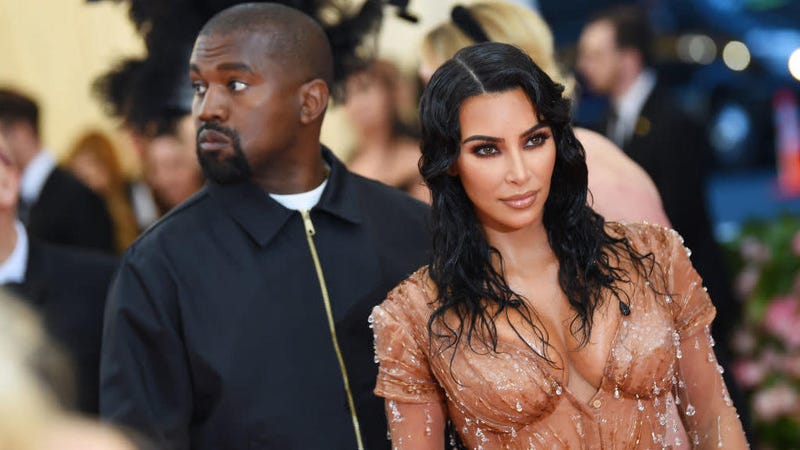 Ye, though he walks through the valley of the shadow of Kris Jenner …
He fears so no evil for the Psalm of God is with him. Yes, Psalm. A week after the child's delivery, Kim Kardashian West revealed their fourth child and second son, Psalm West, on May 10. Kim shared a photo of Psalm via text from Kanye writing "Beautiful Mother's Day With the arrival of our fourth child We are blessed beyond measure We have everything we need".
For anyone keeping up, the couple's announcement of an uncommon name isn't surprising. After all, they're already the parents of children with eyebrow-raising names: daughter North, six years old, son Saint, three, and daughter Chicago, 16 months. Kim had previously told People they were considering an Armenian name for the child-on-the-way but wanted to meet the newborn before deciding.
This is the second child that Kanye, 41, and Kim, 38, have birthed via a surrogate; their daughter Chicago was born with help of a gestational carrier in January last year. Kim has been vocal about her struggles with retained placenta, also known as placenta accreta, which happens when part or all of the placenta remains connected to the uterine wall after childbirth. Normally, the placenta detaches and the mother pushes it out, naturally and easily, after the baby. With placenta accreta, the placenta must be manually scraped off of the uterus by a doctor or midwife.
The condition affects three in 1,000 pregnancies and often results in severe blood loss. In rare cases, the hemorrhaging can be deadly. Kim was warned following the birth of Saint that a third pregnancy could be fatal to her.
Kanye, for now, hasn't spoken about his new fatherhood beyond Kim's post. He's been rather quiet online; his twitter page hasn't had an update since a New Year's Day tweet praising his MAGA hat (really). But expect to hear much more from him when he sits down with David Letterman to discuss, among other things, bipolar, gossip websites and the mind-blowing fate of zippers had Velcro been created first. Kanye's in-depth interview on My Next Guest Needs No Introduction will be available on Netflix starting May 31.

In either case, congratulations to the family.