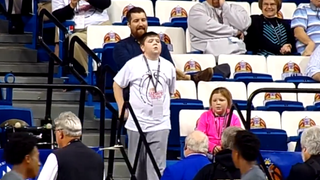 Over the weekend, the Kentucky High School Athletic Association held its annual Sweet 16 tournament—not to be confused with the NCAA tournament. Although the team members are only high school students, the crowd packed the Rupp Arena to the same magnitude as a college game.
But one kid stood out in the crowd—and he wasn't even playing ball.
During halftime, while Pharrell Williams' "Happy" played in the background, a young boy got up and showed everyone his best dance moves.
Take a look:
If you're not sitting there with a huge smile on your face after watching this kid, I suggest you re-evaluate your life.