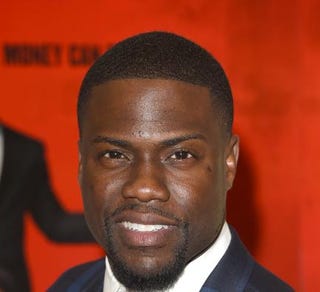 Kevin Hart is currently on a promotional tour for his new Sony movie, The Wedding Ringer, and the comedian had a few words to share about the recent Sony hacking situation. Last month Clint Culpepper, president of Sony's Screen Gems unit, referred to Hart as a whore when he requested more money to tweet about his movies. But Hart isn't letting that incident change his views about Sony.
On Monday while promoting The Wedding Ringer, Hart referred to the incident as "a bump in their road," adding, "It's not that serious to me. That's their deal."
Hart reportedly asked Sony to pay him an extra $2 million to promote his movie on Twitter, even though it was alleged that Sony had previously requested that Hart pull back on how often he uses the social network.
The Wedding Ringer, starring Hart as a rent-a-best man, opens Jan. 16.