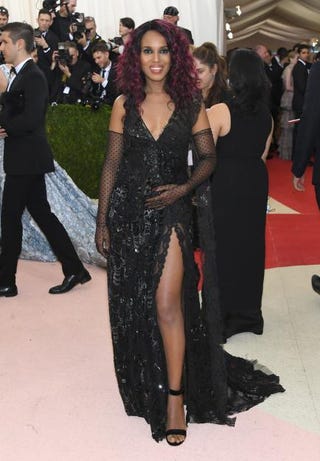 It seems as though when you're in Hollywood and you don't want to confirm that you're pregnant, all you have to do is continually take photos with your hands cradling what appears to be your new baby bump. 
And that's exactly what Kerry Washington did during Monday night's Costume Institute Benefit Gala, better known as the Met Gala, at the Metropolitan Museum of Art in New York City.
As news spread Monday that Washington was expecting her second baby with husband Nnamdi Asomugha, all eyes were on Washington's social media accounts to get confirmation, but nope … that didn't happen.
Washington did show up at the Met Gala looking amazing in purple hair and a Marc Jacobs gown. And of course, there was the tiny "bump," with her hand perfectly cradling it. 
I don't expect Washington to confirm anything anytime soon. The actress has done a great job of keeping her private life private.