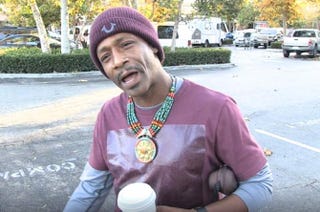 Comedian Katt Williams is speaking out about his and Suge Knight's recent arrests and theft charges. Williams and Knight were arrested after a celebrity photographer alleged that the duo stole her camera.  The two men were both charged Wednesday with one count of robbery. Williams is facing seven years if convicted; Knight faces up to 30 years.
Williams has been released on bail, and in an interview with TMZ, he stated that the photographer was taking a video of Knight's 4-year-old child, who, at the time, was alone in an alley. Williams alleges that the photographer said she would delete the video, but then ran. They chased after her, he says, but claims they never took her camera.
Law enforcement sources told TMZ that they believe Knight was the mastermind behind the melee, and Williams was following his orders. But apparently Williams is ride or die for Knight because he told TMZ he would take the fall for Knight.