One of the original Hot Boyz is in hot water over back child support.

New Orleans rapper Juvenile (government name: Terius Gray) has been jailed after a judge found that he owes $150,000 in child support payments, according to the New Orleans Advocate.
The 40-year-old rapper was taken to jail moments after he ended a performance in New Orleans on Friday night.
According to the report, Civil Court Judge Nakisha Ervin-Knott ruled in May that Juvie must spend either 30 days in jail or pay his child support debt to Dionne Williams, who has a son with the rapper and is owed about $150,000 in arrears.
According to court records, Juvenile was determined to owe Williams about $170,000, based on the years 2012 and 2013, of which he paid $20,000 to her in April.
The Advocate reports that judges in Louisiana have the authority to jail people who fail to pay child support, but do not do it often because it then becomes more difficult for those who owe to pay their debt from behind bars.
G/O Media may get a commission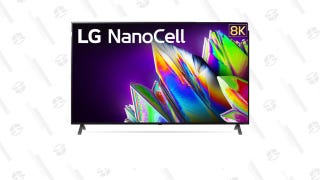 LG 75-Inch 8K TV
However, in certain cases, if judges think the defendants have means, they use the punishment as a last-ditch effort to force payment.
Hopefully, Juvie will pay up so the next 28 days don't move in … "Slow Motion."