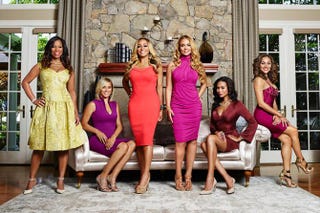 Joining the ranks of the Real Housewives franchise is a new series set to premiere in January. 
The Real Housewives of Potomac is set in the upper-class town of Potomac, Md., right outside Washington, D.C. The cast includes the wives of two former athletes, as well as the ex-wife of a pastor and some high-society types. 
Potomac will star Gizelle Bryant, ex-wife of the Rev. Jamal Bryant of Baltimore; Katie Rost; Karen Huger; Charrisse Jackson-Jordan, wife of basketball coach Eddie Jordan; Robyn Dixon, wife of former basketball player Juan Dixon; and Ashley Darby, all women who, to let Bravo tell it, "have fought for their places in this society by way of legacy or marriage."
Who knows how this new bunch will work out on television. The last Housewives series set in the same area was canceled after just one season. But I'm sure that because of the power of social media, more people will watch just to tweet about the ridiculousness more than anything else. 
The Real Housewives of Potomac premieres Sunday, Jan. 17, at 9 p.m. ET and 8 p.m. CT on Bravo.