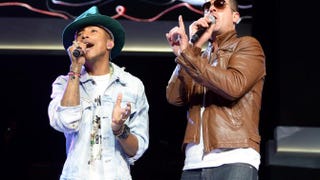 Apparently the judge in Robin Thicke and Pharrell Williams' lawsuit against Marvin Gaye's family isn't seeing any blurred lines when it comes to the law. U.S. District Judge John Kronstadt denied Williams and Thicke's motion for summary judgment in the "Blurred Lines" lawsuit. 
Since last year, Gaye's family has asserted that the song was a blatant rip-off of "Got to Give It Up." But ironically, it was Thicke and Williams who initiated a lawsuit in an attempt to block the family from filing one of its own. The lawsuit, filed in September 2013, was met with the Gaye family's countersuit.
In recently released depositions, both Williams and Thicke were hostile during their testimonies, and Thicke also admitted misstating his participation in the creation of the song. When the Gaye family attorney played the mashup of the song, Thicke reacted interestingly:
"It's so hard to listen to it," said Thicke. "It's like nails on a f—king chalkboard. … This is [like] Stanley Kubrick's movie Clockwork Orange, where he has to sit there and watch. … Mozart would be rolling in his grave right now."
According to the Hollywood Reporter, the judge stated that the Gaye family has "made a sufficient showing that elements of 'Blurred Lines' may be substantially similar to protected, original elements of 'Got to Give It Up.' Defendants have identified these with particularity for purposes of analytic dissection."
The case is set to head to trial Feb. 10.